It's no secret that Montreal is a foodie mecca, but the seemingly endless number of choices in the city can be overwhelming to visitors who don't know where to start. Romantic meal options in Montreal are just as numerous, with cute and intimate bistros on practically every street corner.
That also means there are options for every occasion, every palate, and every budget. Whether you want a casual night out with appetizers and live music or an elegant sit-down meal prepared by a distinguished chef, treat yourself and your partner to Montreal's romantic and creative culinary scene.
L'Express
L'Express has been a Montreal institution since it opened its doors on St. Denis Street in 1980. Go for a pot of unlimited pickles, the bottomless breadbasket, the loud but elegant crowd, and, of course, the wine list, which is so long that you'll benefit from the sommeliers on hand. Visit if you're in the mood for a stylish yet unstuffy Parisian ambiance with ace service, wine at any price point, and excellent food. Try the steak tartare with fries, taste the salmon, and take a few risks, like trying the tender and sweet calf liver steak.
ADDRESS 3927 R. Saint-Denis, Montréal, QC H2W 2M4, Canada
PHONE +1 514-845-5333
Le P'tit Plateau
You'll find fine French cuisine in a down-to-earth, come-as-you-are locale one block south of Mont-Royal Avenue in the Plateau. You'd be lucky to fit more than two dozen people in the small yet charming open-kitchen dining area. It's a bring-your-own-wine restaurant, too, a bonus considering how well-executed the dishes are, from the duck magret to the falls-off-the-bone lamb. A lovely spot when you want to treat a carnivorous loved one to high-end cuisine without the dress code and a hefty price tag.
ADDRESS 330 Rue Marie-Anne, Montréal, QC H2W 1B1, Canada
PHONE +1 514-282-6342
Hoogan et Beaufort
Located in the Angus Shops area, a revitalized railcar manufacturing complex, Hoogan et Beaufort features industrial stylings, high ceilings, and exposed overhead beams courtesy of the building's not-so-distant past. Also equipped with a wood oven, Hoogan et Beaufort is a place where you bring the food-obsessed loves of your life who want to experience creativity unbridled, the vanguard of Quebec's market cuisine movement. It's a joint for folks who relish new flavors and casual, chatty atmospheres over traditional dishes served in the formal ambiances often associated with fine dining.
ADDRESS 4095 Rue Molson, Montréal, QC H1Y 3L1, Canada
PHONE +1 514-903-1233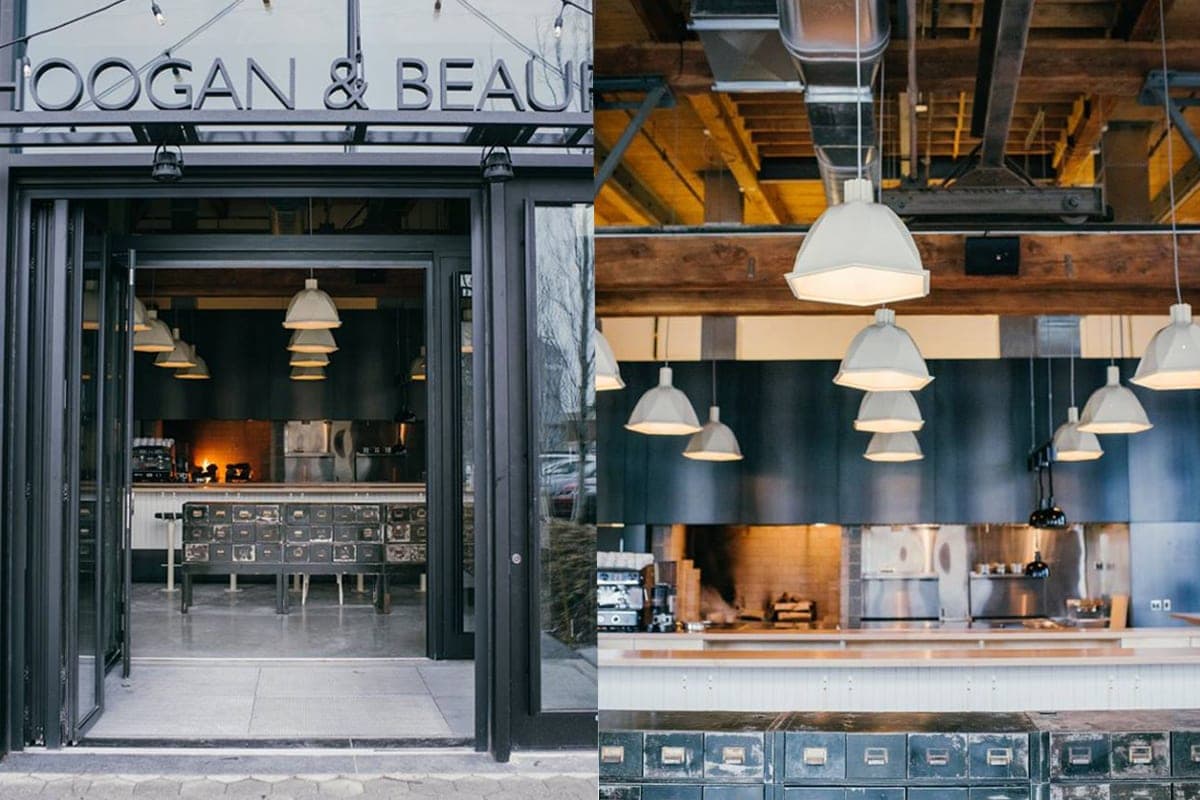 Maison Boulud
Lyon native Daniel Boulud, the Michelin-starred chef who launched more than a dozen lauded restaurants in New York City and the world over, opened Maison Boulud in Montreal's prestigious Ritz-Carlton Hotel in 2011; it's been a smash hit ever since.
The decor, the service, and the impeccable plating at this swanky downtown destination located in the heart of Montreal's Golden Mile district justify the hefty check you'll receive at the end of the meal. As for the dress code, it's "casually elegant, no jacket or tie required."
ADDRESS 1228 Rue Sherbrooke O, Montréal, QC H3G 1H6, Canada
PHONE +1 514-842-4224
Europea
Because who doesn't want to be treated like royalty? Enter Europea, a fine-dining establishment in Montreal's downtown Golden Mile district opened by renowned chef Jérôme Ferrer.
It's pricey but consider it an investment in an experience, a memory unlikely to fade anytime soon. It's been named by TripAdvisor as the best restaurant in Canada and one of the best in the world, so you can rest assured that your money is being well-spent. The chic interior of the restaurant heralds the equally haute presentation of the food, which is nothing short of artistry. The dress code is "business chic," so don't skimp on the duds.
ADDRESS 1065 Rue de la Montagne, Montréal, QC H3G 0B9, Canada
PHONE +1 514-398-9229
Jun I
Junichi Ikematsu is arguably at the top of Montreal's crop of sushi chefs. He is a formally trained Japanese sushi chef who is a master of the craft in the form of classic sushi and sashimi fare done right within the confines of his Laurier West restaurant, Jun I.
Ikematsu forgoes the fancy plating and over-the-top presentation, preferring to let the quality of the fish speak for itself. There's no dress code, but look clean and presentable to fit right in.
ADDRESS 156 Av. Laurier O, Montréal, QC H2T 2N7, Canada
PHONE +1 514-276-5864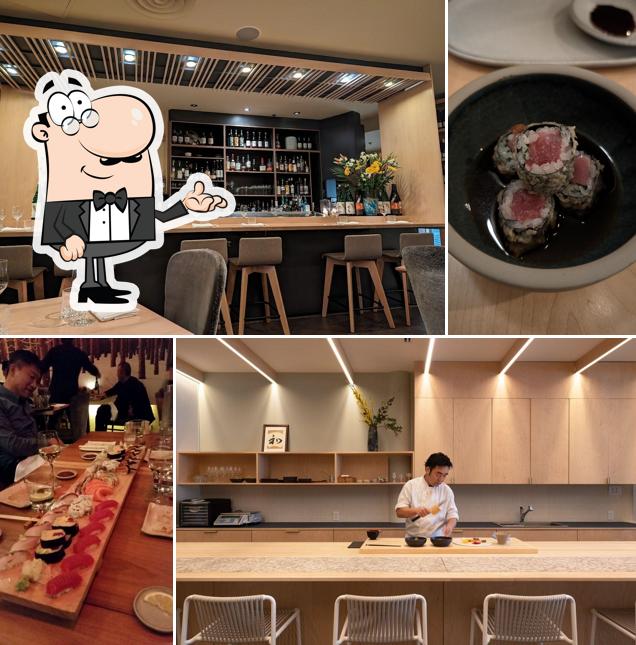 Nil Bleu
Sharing from the same communal plate while eating with your hands has a way of bonding people together, at least for the span of a night, which is but part of Nil Bleu's appeal, arguably Montreal's best Ethiopian restaurant.
There's something for everyone on the menu, too, including vegan and gluten-free options. The tasting menu for two is what many return for, with its variety of lamb, chicken, filet mignon, chickpea, split peas, lentils, and veggie ​samplers served with injera, a gluten-free spongey sour flatbread which serves as a scooping utensil and subtle flavor backdrop. Low lighting contributes to the intimate, romantic ambiance.
ADDRESS 3706 R. Saint-Denis, Montréal, QC H2X 3L7, Canada
PHONE +1 514-285-4628
Toqué!
Normand Laprise, co-founder and once executive chef of Toqué!, is a pioneer of Quebec haute cuisine, meticulously plated dishes brimming with locally-sourced ingredients, wild concepts, and stunning flavor combinations. Toqué! is one of Canada's finest tables and one of the country's elite Relais et Châteaux members, a France-based international fellowship of luxury hotels and restaurants that's remarkably fussy with regards to whom they let into their circle.
Not that Toqué! is fussy, as the service is quite friendly and down-to-earth. And you don't absolutely need a jacket and tie to walk through the door, but do dress smartly. You can order a la carte or go for the tasting menu with optional wine pairings. Located right by Montreal's largest convention center, Palais des Congrès, Toqué is sandwiched between Old Montreal and Chinatown, making for a pleasant after-dinner walk, provided the weather cooperates.
ADDRESS 900 Pl. Jean-Paul-Riopelle, Montréal, QC H2Z 2B2, Canada
PHONE +1 514-499-2084
Milos
Montreal's best Greek restaurant is also the city's most dreamy, if only by cursory virtue of its white curtains grazing surrounding windows like a scene out of a romance novel. Best known for its ultra-fresh fish and seafood caught just hours earlier, Milos is not cheap, but meals come with personable service, elegant ambiance, and sizable portions. The food quality is so authentic that even the croutons could be made from bread flown in from Greece, making Milos consistently the city's top-ranked Greek restaurant and one of Montreal's best dining experiences across the board.
If you're looking for something more affordable, try Milos' lunch menu or late-night menu, which includes a choice of starter, main, and dessert for a fixed price.
ADDRESS 5357 Av du Parc, Montréal, QC H2V 4G9, Canada
PHONE +1 514-272-3522
Les Enfants Terribles
Montreal bistro and French brasserie Les Enfants Terribles has six locations in and around Montreal. But for date night, you'll want to make your reservation for its Au Sommet PVM location. Located 44 floors above the ground, it's one of Montreal's highest restaurants with incredible views. The ambiance is smart casual, and the food ranges from comfort fare to elegant Quebecois cuisine, with a menu that regularly changes to incorporate the freshest, in-season foods.
ADDRESS 1 Blvd Robert-Bourassa, Montréal, QC H3B 4S6, Canada
PHONE +1 514-544-8884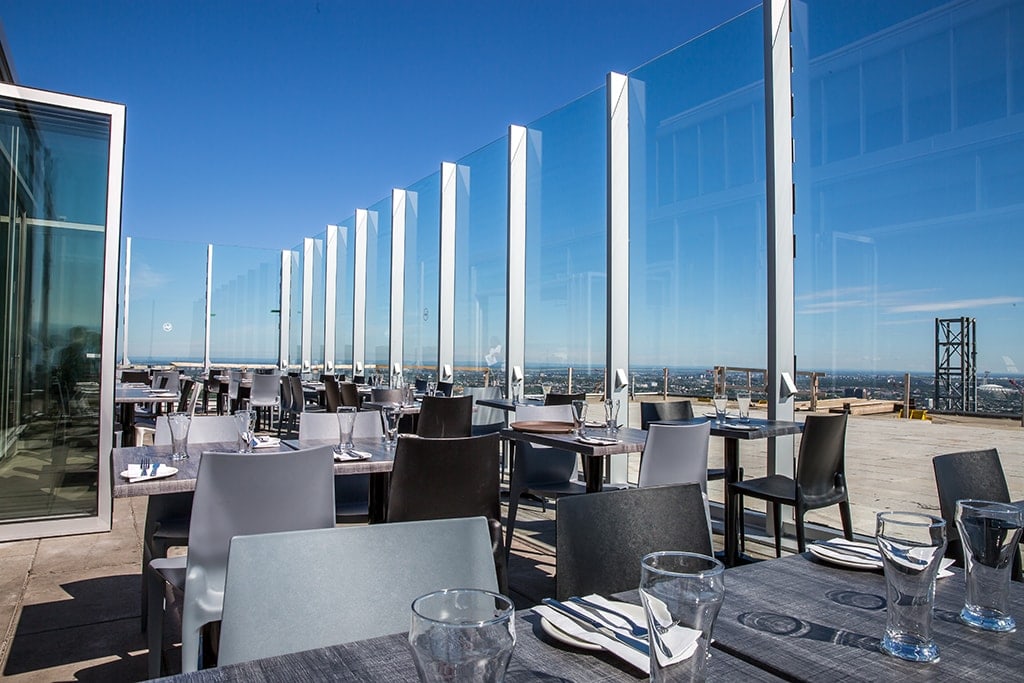 Barroco
Experience cuisine from the south of France with a Spanish twist, and served inside a restaurant that feels like an enchanted grotto. The paella is one of their star dishes and is filled with squid, shrimp, scallops, blood sausage, chorizo, and even lobster.
Known for its cocktails as well as its well-executed dishes and top-notch service staff, Barroco's dimly-lit, castle-like ambiance oozes date night. The restaurant also only admits customers over the age of 18, making it even more ideal for an evening of romance.
ADDRESS 312 Rue Saint-Paul O, Montréal, QC H2Y 2A3, Canada
PHONE +1 514-544-5800
Auberge St. Gabriel
Auberge St. Gabriel is the oldest building in Montreal, erected back in 1688, and the oldest inn in North America, with a liquor license that was granted in 1754. It's even rumored to be haunted.
Not that ghosts are especially romantic, but Auberge St. Gabriel has all the makings of a sensual if eccentric destination, from the entrance's giant whale spine to two stuffed headless moose smooshed together with a lightbulb in the center. There is nowhere else in the city quite like this place, a juxtaposition of old and new, rustic and chic, old-school standard and off-the-wall whimsy.
For a more romantic meal, head to the dining room or terrace in the summer for a meal combining French and Quebec market cuisine, everything from spit-roasted meats to elegant foie gras and a Swiss fondue meal that comes with charcuterie.
ADDRESS 426 Rue St Gabriel, Montréal, QC H2Y 2Z9, Canada
PHONE +1 514-878-3561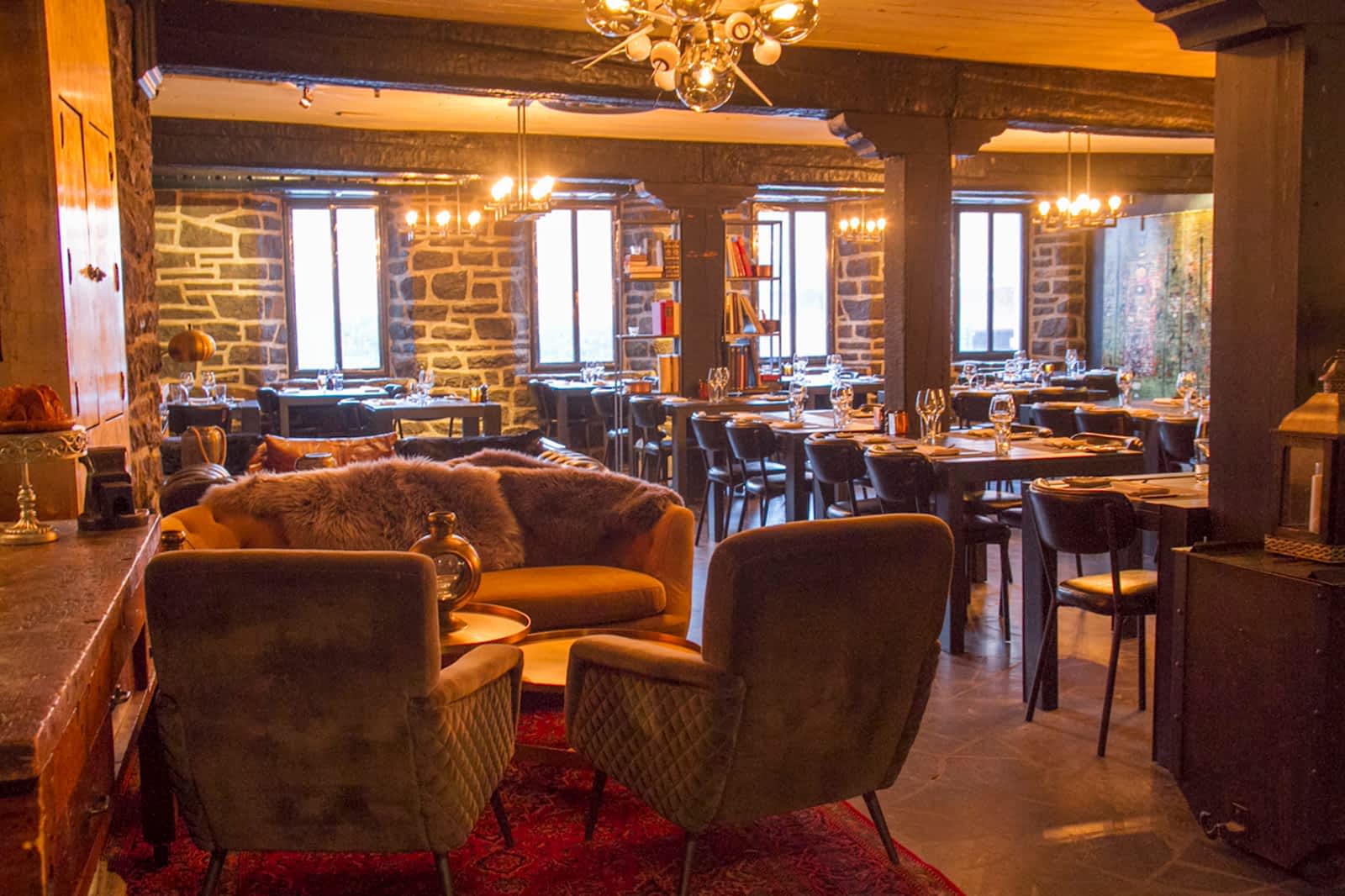 Maison Saint-Paul
Maison Saint-Paul specializes in sparkling wines either by the glass or the bottle, and while the menu is primarily of the French varieties, you can also find Spanish cava, Italian prosecco, and a large selection of wines. If you ask your server for the right bottle, staff will hand over the house saber, offering you and yours a quick tutorial on how to whack open your bottle of bubbly safely.
The food is a shareable mix of Asian, French, Italian, and Quebec influences. Case in point: Try the high-end pho with scallops, shrimp, muscles, clams, octopus, tempura crab, lobster, and filet mignon. The venue turns into a club vibe after midnight, so if you wanted to stick around and dance, you can. It's a great spot for double or triple dates, so you can all share a bottle or more, and then stay into the night.
ADDRESS 343 Rue Saint-Paul E, Montréal, QC H2Y 1H3, Canada
PHONE +1 514-903-9343
LOV
Romantic restaurants usually focus on premium cuts of steak or freshly caught seafood. LOV is a plant-based restaurant, but you don't need to be vegan or vegetarian to love this restaurant.
LOV has a few locations around the city, with one centrally located in Old Montreal. You can order a meal like the black bean patty burger, or order a variety of starters to share, with standouts like the kimchi fries, sweet potato gnocchi, or the quinoa fritters with Tumeric mayonnaise. Round out your healthful meal with one of their organic beers, a glass of wine, or a freshly-made house cocktail.
ADDRESS 464 Rue McGill, Montréal, QC H2Y 2H2, Canada
PHONE +1 514-287-1155