July is mid-winter in New Zealand, which means cool and damp in most of the north, and cold, damp or snowy in the south. It's not peak season unless you're into skiing, and then you're in luck. Here are some important things to know about traveling to New Zealand in July.
Weather
July is smack-dab in the middle of winter in New Zealand, and is officially the coldest month of the year. This might be a bit unfortunate for travelers from North America or Europe who have long vacations at this time of year, but there are still great things to do in New Zealand in winter, if you know where to go.
Generally speaking, the further south you travel in New Zealand, the colder the average temperatures (at any time of year), although there are pockets of exceptions to this. Northland is nicknamed the 'winterless north' because it has a subtropical climate. July temperatures here are warmer than the rest of the country (although not significantly higher than Auckland or other parts of the upper North Island). It's not uncommon for daytime highs to reach 59° F (15° C), even in mid-winter. But, the upper North Island also gets a lot of rain between June and August. The 'winterless north' is a subjective idea!
Temperatures are colder further south, with maximum temperatures in the coastal cities of Wellington and Christchurch around 53° F (12° C), but much colder overnight, with frosts common. Inland towns are generally much colder, and while New Zealand doesn't have many major inland towns, a lot of tourist attractions are inland. Queenstown gets maximum highs in winter of 50° F (10° C), although with snow on the surrounding mountains and winds blowing off them, it will usually feel much colder than this.
An exception to the 'south is usually colder' rule is the upper South Island. Nelson regularly wins the title of sunniest city in New Zealand, and while its average July high is just 53° F (12° C), it's drier than many places in the North Island or coastal South Island, meaning you can expect sunny winter skies here a lot of the time.
Crowds and Costs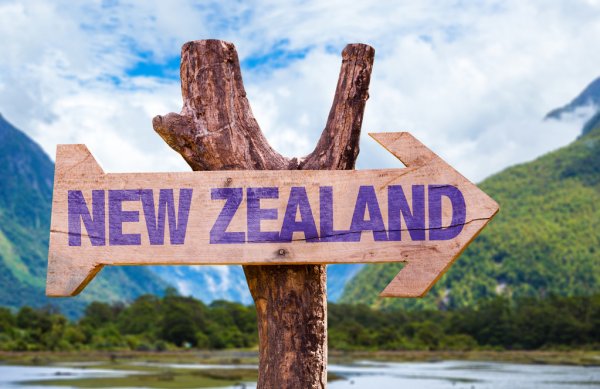 July is low tourism season in many parts of New Zealand, except for places where you can ski (primarily the South Island). In general, July is low season in the north, but much busier in the south. Accommodation and vehicle rental costs increase accordingly.
New Zealand schools take a two-week vacation in July, so you may see more domestic travelers out and about. Many New Zealanders are into skiing, although those who aren't are more likely to head to the Pacific Islands for their winter vacation than other parts of New Zealand, so this isn't a major time for domestic tourism.
Where to Go
Unless grey skies and damp weather don't bother you, avoid most of the North Island in July. This is the wettest month in Auckland (and that's saying something!) There are still beautiful things to see in the north, patches of fine weather, and you can enjoy indoor city sightseeing in Auckland and Wellington. But the North Island doesn't shine in July. The same applies to coastal areas in the lower South Island (Dunedin and Invercargill.)
If you're into skiing or snowboarding, though, head to the mountains of the South Island, or of the central North Island. There are three ski fields in the North Island, and many more in the south, especially around Queenstown, Wanaka, and the Canterbury town of Methven. Be aware that mountain roads can be hazardous or blocked when there's heavy snowfall, so if you're self-driving around the country then be sure to check local conditions before attempting to cross any high passes, such as when traveling between Queenstown and the West Coast.
As mentioned above, the 'top of the south' also gets quite mild winter conditions. You'll need a warm jacket, but Nelson, the Abel Tasman National Park, the Marlborough Sounds, and Golden Bay are quite nice in winter and good options for travelers who want a little bit of the best of New Zealand—beaches, forests, and mountains—within a manageable-sized region.
What to Do
July is an ideal time to go skiing or snowboarding, if you're into that. The season normally starts in June, but the exact dates shift depending on conditions. July is more reliable. The most popular and accessible ski fields are around Queenstown, Wanaka, and Methven in the South Island, and in the Tongariro National Park in the North Island.
Unless you're really dedicated to spending a lot of time outside in July, general sightseeing is more enjoyable than extensive outdoor activities at this time of year. Check out the museums, galleries, and museums in the big cities (Auckland, Wellington, Christchurch, Dunedin), or cultural shows in Rotorua and Taupo. Natural hot springs are a lovely retreat on a cold day, and can be found in Rotorua, Taupo, and Hanmer Springs. Dolphin or whale-watching cruises in the Bay of Islands and Kaikoura, and other cruises in places like Milford Sound and Doubtful Sound, can run in mildly bad weather (although can be canceled if there's a lot of rain or wind). Many travelers to New Zealand rent a car or RV, and this gives you the flexibility to alter your plans depending on what the weather is doing.
Only experienced trekkers will want to go on long-distance or higher-altitude hikes in July, as conditions can be challenging (to put it mildly). But if you stick to lower altitudes there are great day walks all over the country. The Abel Tasman National Park is a popular destination, but New Zealanders are big on hiking so wherever you are, you won't be far from a well-maintained track.
July Events
Birdman, Russell. If you're traveling around the winterless north in July, check out this wacky festival in Russell, Bay of Islands. Competitors dress up as birds and jump off the Russell Wharf!
New Zealand International Film Festival. This festival begins in Auckland in July, and travels around the country thereafter, so you may be able to catch it in other towns throughout the country, too.