You already know to bring Canadian currency, pack a parka in winter, and that Toronto takes its sports teams very seriously. However, for those quirks and facts you won't find on a Toronto tourism billboard? Read on.
1. Everything is under construction
Toronto always seems to always be undergoing some sort of construction; while this is a positive force in ensuring our tax dollars are going towards improving the city, visitors are usually shocked by the lines of cars coming in and out of the city. If you're planning to drive, expect delays. If you'd rather opt for public transit, *also* expect delays.
2. The government regulates the sale of al.c.o.h.ol… as if it's still the 1920s
The LCBO, a government-run company that regulates the sale of alcohol, is the sole proprietor of all things liquor, keeping the prices for getting your drink on particularly higher than our neighbours in the US. If it's you're first time to the city, make note of the hours of your local LCBO. Don't be surprised if there's a line – because there's pretty much no other place to get your hands on l.i.q.u.or.
3. Traffic is h.o.rr.en.d.ous
In correlation with everything being under construction in Toronto (see #1 above), the city is a 'parking lot' most days – think lines and lines of cars – especially Friday nights when out-of-towners are heading into downtown. Skip renting a car, and make use of the public transit. Be wary of delays however; walking through the city is the most reliable (and effective) means of transport.
4. The street names are difficult to pronounce
Yonge, Roncesvalles, Spadina, Tecumseth… what? Expect to butcher the street names found throughout the city, most of which are taken from famous First Nations Peoples; just remember: Yonge = 'young'; Tecumseth = 'tecumsee', Spadina = 'spuh-dine-uh', and Roncesvalles… well, locals still argue over how to pronounce that one. Stick with Roncy, and you'll sound like a local.
5. There are always delays on TTC
Torontonians are familiar with the phrase, 'TTC was delayed' and it's a commonly accepted (and approved of) excuse when traveling by public transit in the city. Due to construction and poor city planning, leave extra early to give yourself enough time to arrive to your destination on time.
6. Raccoons rule the city
Canadians are known for their inadvertent use of kindness and over-polite gestures… even to the raccoons. With the publicized 'memorial' for the famous raccoon that died on the streets and doughnut-stealing raccoon, it's no wonder why this animal has become the Canadian mascot. Don't be surprised to see these little guys cruising around town, hanging on street corners or stealing baked goods.
7. The $1 and $2 are coins
Yes, Canada has it's own currency. Yes, it looks like Monopoly money. Be sure to always have change on you – especially for TTC. The $1 coin is a called a loonie, and the $2 is called a toonie.
8. There's an entire Canadian list of slang
Everyone knows the popular 'eh' as a Canadian slang word, but what about when you're ordering from Timmies? Or, when you need a serviette? See our guide for a list of must-know terms.
9. The weather can change on a dime. It IS Canada
Always pack warm clothes when visiting Toronto. You never know when an ice storm, tornado, or the Polar Vortex is going to hit. Be prepared at *all* times.
10. Milk comes in bags
Yep, bags. You can opt for the carton, which is also available, but most locals are quick to grab the bag as it's quite popular and is found in most homes in Canada. Note: bags of milk require a special holder that makes it easier to pour and prevents unnecessary spillage. A good investment if you're planning to go this way.
11. Happy Hours are slim pickin's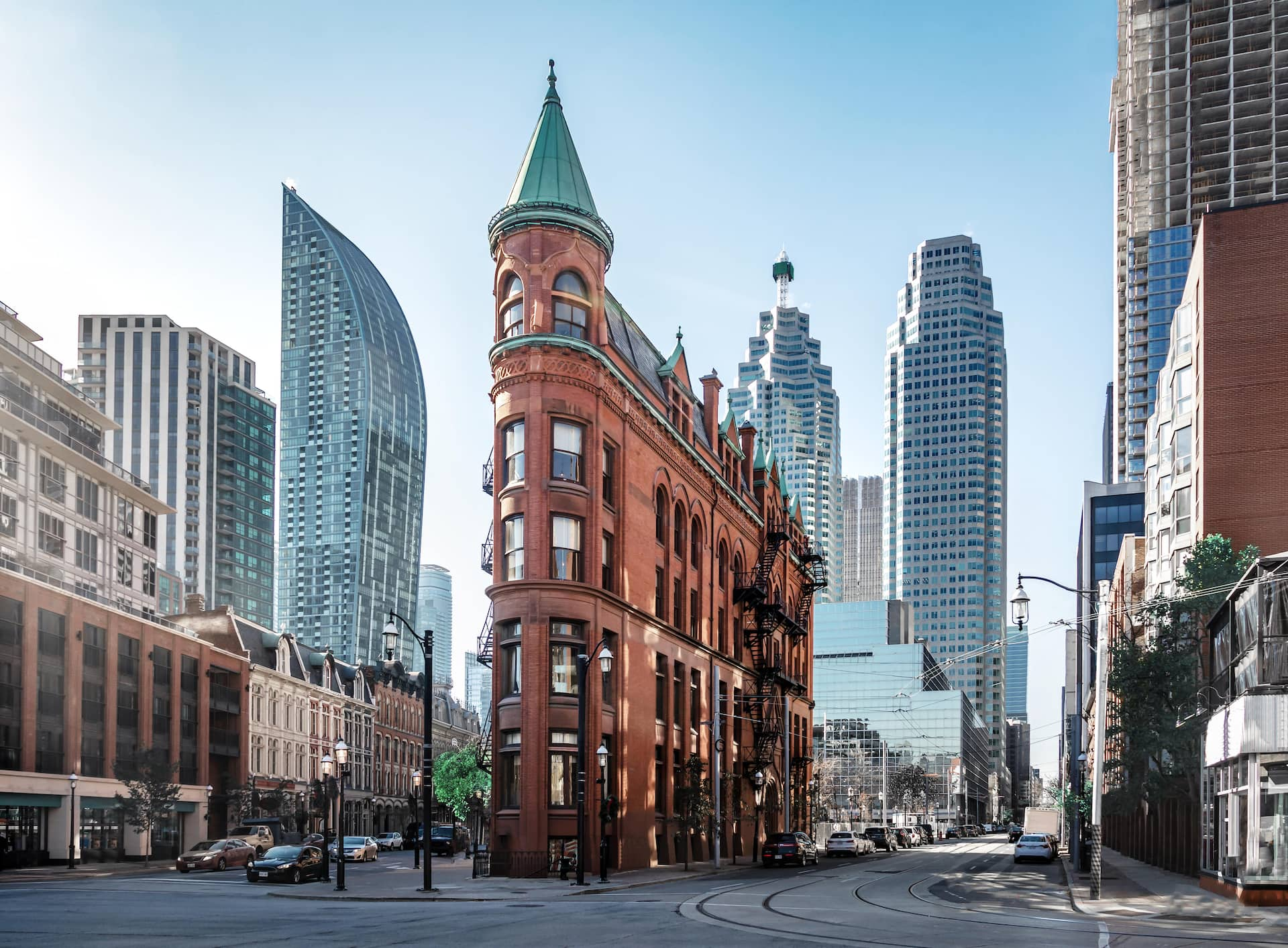 Due to government regulated liquor and laws, alcohol can't be sold under a certain price, making Happy Hours a treasure hunt when in the mood. Certain spots do 'cinq-à-sept' where drinks are discounted from 5-7pm; others will pick a certain day to offer a discount like half-priced bottles of wine at Valdez on Wednesdays or 'buck-a-shuck' Thursdays at La Société, where oysters are offered at $1 each. Do your research, and you're bound to find a Happy Hour to fill your desires.
12. Bathrooms are sometimes shared between men and women
Don't be scared when you enter the restrooms (or, washrooms as referred to here), as there's no designated stall for women or men. Most places are opting for shared bathrooms in order to prevent lineups from getting too long while also accommodating the LGBT community by keeping bathrooms unified.