Keukenhof garden is famous as the most extensive flower garden in the world and one of the most attractive tourist destinations in the Netherlands. The flower garden of the Lisse urban area, about 30 hectares wide, has a charming beauty and colorful flowers with countless beautiful tulips. Bright, radiant flowers stretch in rows running straight to the horizon. If you have a travel plan to this beautiful garden, you should only come in mid-March to the end of June, because it is only open to tourists during that time.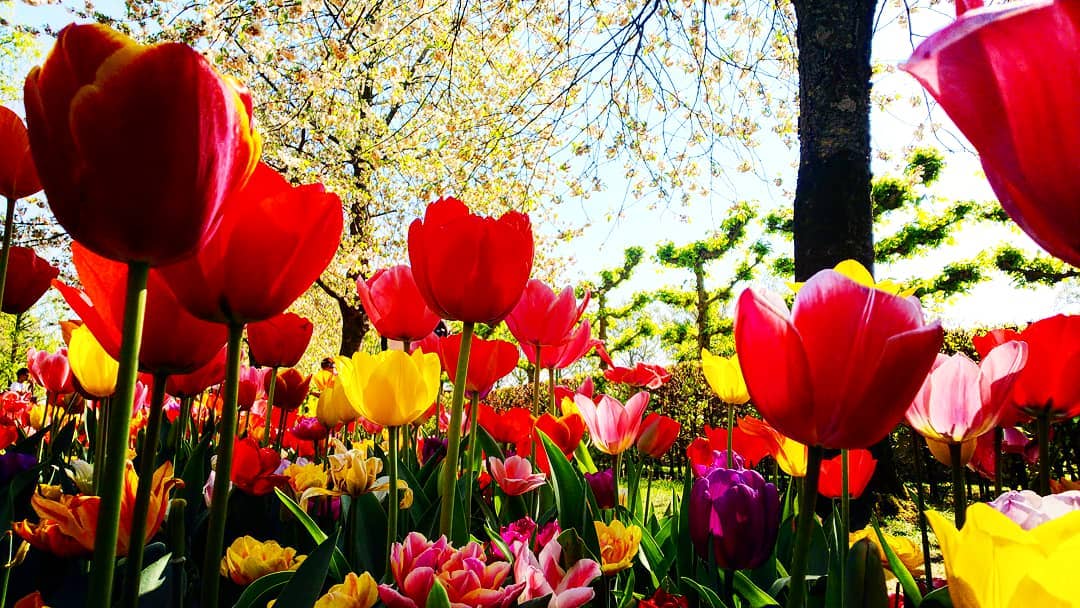 Although the Keukenhof flower garden only welcomes tourists for two months, it is estimated that there are millions of visitors to enjoy each event. According to statistics, up to now, the world's largest tulip garden in the Netherlands has received more than 50 million tourists, of which 75% are international visitors from 100 different countries. It is ranked as one of the most popular destinations in the Netherlands.
Visitors come here, enjoy the beauty of hundreds of flowers, feel all the little corners of nature. Sometimes it's just contemplation by the easels to save a little spring in a brilliant picture. Or maybe selfies to keep in your album.


Since the 15th century, this garden specializes in flowers, vegetables, and herbs planted around a castle. In the local language, it is called 'kitchen garden – Keukenhof.' Since 1949, this place has been designed to enjoy flowers in a completely new way; the flowers are arranged according to the design of each zone, creating extremely eye-catching flower beds. Keukenhof is the venue for the largest tulip festival in the world, which is an opportunity for visitors from all over the world to enjoy the masterpieces from the heart of flower growers. In addition, agricultural engineers also can meet, exchange experiences, and demonstrate rare flowers, demonstrating the talent and wisdom of flower growers.
The Keukenhof Flower Festival is held with different themes and special activities on the sidelines. The event with the topic "Dutch Design" taking place in 2017 is considered a milestone marking the 68-year journey of this famous festival with more than 500 florists and more than 20 other complementary programs.
During tulip season, the Keukenhof garden will be arranged into five zones named after the kings and queens of the Netherlands: Oranje Nassau, Wilhelmina, Juliana, Beatrix, and Willem Alexander. With ​​​​about 32 hectares, this park is home to about 4.5 million tulip bulbs of 100 types and 2,500 flowers of all kinds, bringing 7 million flowers of 1,600 different types. Inside the three main booths, each year 30 unique flowers and ornamental plants are displayed, hand-selected by a panel of experts. Of course, the tulips here will be listed as the most beautiful and enormous in the world that can't be compared anywhere else.

If you've ever seen tulips somewhere and had a chance to visit Keukenhof, you know how charming they really are. Not only flowers, but Keukenhof also has a Japanese garden, spring lawn, natural garden, historical garden, labyrinth garden, and 7 inspiration gardens, each year with new looks. Small streams are winding along the path, white gravel paths creaking with footsteps, short slopes leading to old tree stumps and wooden houses. Occasionally visitors will encounter ancient windmills – a characteristic of the Netherlands.