Kitsilano Pool, or better known as Kits Pool, in Vancouver is named as one of the world's best places for swimming. Here are a few fun things to know about popular, iconic outdoor pool.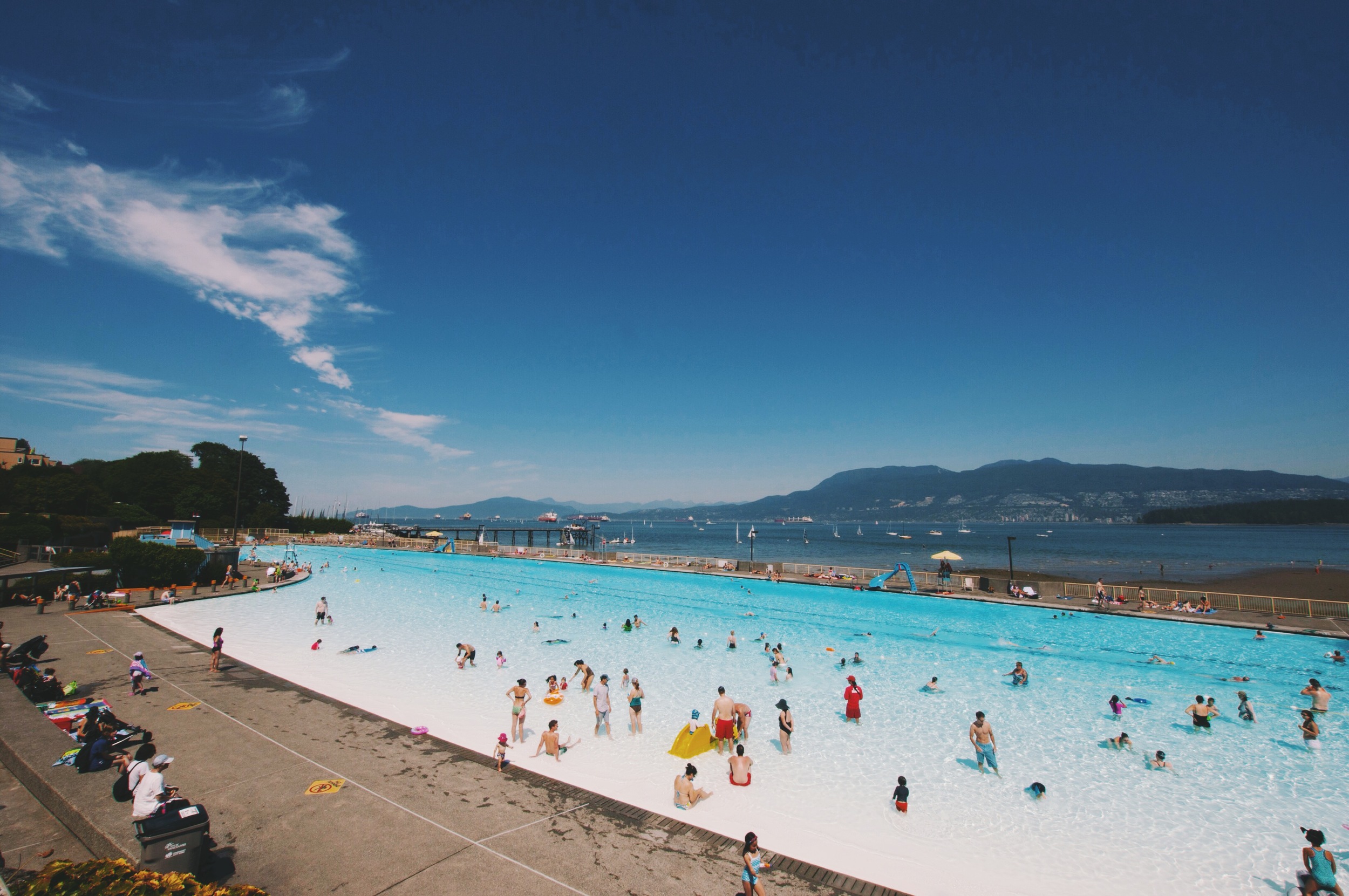 The views are amazing!
Kits Pool feels like an escape with its white bottom, turquoise water and scenic views of the North Shore mountains and the Vancouver skyline.
It's a saltwater pool.
Kitsilano Pool is Vancouver's only saltwater swimming pool. The salt water is pumped in from the Pacific Ocean. The outdoor summer pool is located near the beach, cafés, and neighbourhood of Kitsilano.
Address: 2305 Cornwall Ave, Vancouver, BC V6K 1B6, Canada
It's the longest pool in North America.
At 137 meters (450 feet), it is not only the the longest saltwater swimming pool in Canada but also of the entire continent of North America. Its length is almost three times the length of an Olympic pool.
It opened almost 90 years ago.
Kits Pool first opened in 1931 at a cost of $50,000. It was originally filled by the tidal flow from English Bay.
In 2018, the City of Vancouver spent $3.3 million dollars to upgrade Kits Pool. Improvements included making the water saltier and more buoyant for an amazing swim experience.
What you need to know before you go.
Kits Pool is typically open from mid-May to September. Here are some tips for planning your visit with new safety protocols due to COVID-19:
Buy your tickets online for Kitsilano Pool the day before. Tickets are released at 9:30 am for the following day and sales end at 8:45 am for same-day tickets.
Drop in entry is first come, first serve, and available from the start of the swim session for up to 15 minutes.
Arrive in your clean swimwear. Change rooms are not available.
Leave all valuables at home. Lockers are not available.
Merchandise and towel rentals are not available.
Kickboards are not available for rental, but you can bring your own.
Snorkels are not permitted.
Hours of operation
Lap swimming session are 45 minutes for from 7 am to 8:45 am and 7 pm to 7:45 pm. Public swimming is 90 minutes from 9 am – 6:30 pm.
Admission price
Tickets are sold by pod for physical distancing. Maximum of two people (not including preschoolers) per pod.

It's wheelchair accessible.
Kits pool is wheelchair accessible and even offers aquatic wheelchairs and a dedicated pool lift.
Requirements for children at the pool
Children seven years old and under must be with a responsible guardian (16+ years old) while in the water. The guardian must wear a bathing suit and be within arms' reach of the children.
One guardian can supervise up to three children.