Weighing up the pros and cons of the two largest cities in the Netherlands can be tricky, and several factors should be taken into account before setting off to either Amsterdam or Rotterdam. To make this choice slightly easier, we have put together a comparative guide to these cities, aimed at culturally curious travellers.
Architecture
Before the outbreak of World W.a.r II, Rotterdam was revered for its medieval architecture. Unfortunately, these architectural wonders were almost completely destroyed during German air raids in 1940. Rotterdam was rebuilt after the war in accordance with modern design standards, which led to the construction of its current, monumental skyline. In fact, Rotterdam is probably the best place in the Netherlands to discover modern architecture, and its city centre is eclipsed by several impressive buildings including the Erasmus Bridge, Euromast and the Maastoren.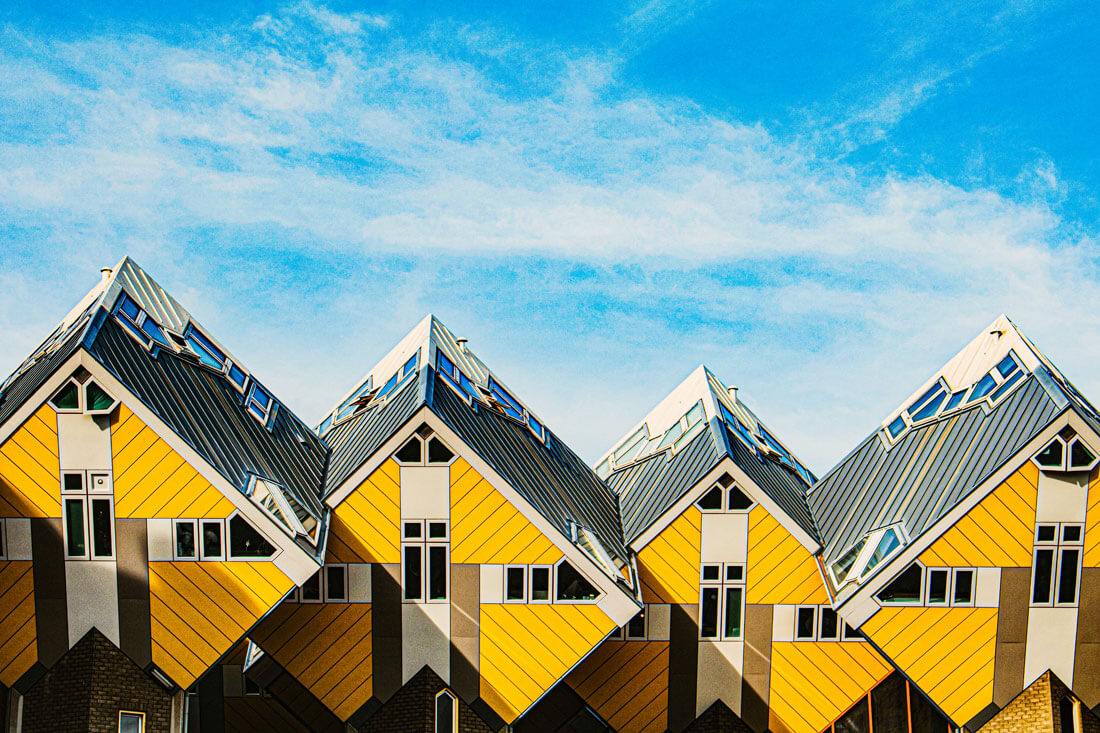 While Amsterdam has certainly undergone considerable changes over the years, its city centre has remained relatively unaltered since the 17th century. Its iconic canal belt was constructed during this period and is now recognised as an UNESCO heritage site. Many historical buildings were built along the banks of these canals, including Trippenhuis, Museum Van Loon and Westerkerk. Nonetheless, Amsterdam still has its fair share of modern architecture, which is mostly located in its periphery.
Night Life
It is difficult to compare nightlife in Amsterdam and Rotteram for several reasons. Although Amsterdam contains considerably more clubs, concert venues and bars, than Rotterdam, this is likely due to the cities comparative size, more than anything else. Moreover, locals in both towns often gravitate towards less commercially-driven establishments outside of the city centre, or cosy, smaller pubs that are hidden in plain sight.
Approximately speaking, it is easier to find cool, relaxing or LGBT orientated spots in Amsterdam, meaning that spending a weekend in the city can be more rewarding. However, while it might not be immediately obvious to newcomers to the city, Rotterdam is renowned for its alternative clubs, gay scene and booming pub culture. It is therefore worth scouting out local websites or Resident Advisor before setting off for a night out in Rotterdam.
Affordability
The cost of living in Amsterdam is considerably higher than the rest of the Netherlands. Fortunately, this disparity isn't massively overwhelming and working on a budget in Amsterdam is certainly possible. The city's bike friendly infrastructure, for example, significantly reduces transport costs and non-residents can easily use this system to their advantage.
Whilst accommodation in Amsterdam is definitely more pricey than in Rotterdam, other expenses, such as eating out or cultural activities, cost more or less the same. It is worth noting that ordering a b.e.er (2.5 ml) in either city usually costs around €3 and entrance fees at museums or galleries are fairly equal throughout the Netherlands.
Both cities also feature numerous high-end establishments, including Michelin Star restaurants and luxury accommodation, such as Amsterdam's iconic Grand Hotel Amrâth Hotel or Rotterdam's Hotel New York.
Natural Beauty
As both cities are located on the western side of the Netherlands, their geography is relatively similar and when it comes to natural beauty Amsterdam and Rotterdam are almost equally matched. There are plenty of green spaces in either city and both are surrounded by large bodies of water. Nevertheless, Amsterdam's city centre is arguably greener, due to the presence of Vondelpark and Westerpark.
Obviously, neither city is a natural paradise and both suffer from the realities of modern urbanism. Luckily, there are many naturally beautiful places to explore beyond central Amsterdam or Rotterdam. Amsterdamse Bos, for example, is actually inside of Amsterdam's city limits and features several, diverse terrains including woodlands, lakes and grassy meadows. Whereas in Rotterdam, visitors can set off to Kinderdijk– an enormous polder landscape that contains the largest network of mechanical windmills in the Netherlands.
Museums and Galleries
Being the two largest cities in the Netherlands, Amsterdam and Rotterdam both have their fair share of cultural institutions. The Van Gogh Museum, Stedelijk and Rijksmuseums are all located in Amsterdam's Museumplein, and feature a wide selections of exhibitions that range from modern, avant-garde art to classical Dutch portraiture.
Rotterdam has its own museum district, which is aptly titled Museumpark. This stretch of land contains Museum Boijmans van Beuningen and Kunsthal Rotterdam, which focus on historical artwork and revolving modern exhibitions respectively. Contemporary art is well represented in both cities at numerous private and public galleries. However, these organisations are slightly more visible in Rotterdam and are mainly concentrated around a culturally-orientated street called Witte de Withstraat.
By: theculturetrip.com